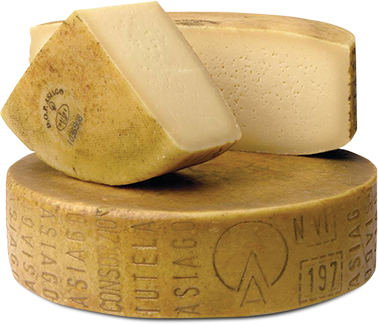 Asiago Vecchio
Areas of Production
Four provinces in North East Italy: the provinces of Vicenza, Trento, part of Padua, and Treviso.
History
The name Asiago comes from the Asiago plateau, home to vast pastures and cheesemakers for over 1,000 years. In the sixteenth century, the popularity of dairy farming created the need to identify rules of precise processing for the production of cheese. This led the farmers forming an association for the production of this cheese. Today, Asiago is a PDO (Protected Designation of Origin) cheese. The Protection Association for Asiago was established in 1979.

Asiago is unique in that it is the only PDO cheese produced in two different varieties: Asiago Pressato (Fresh Asiago) and Asiago Vecchio (Mature Asiago).
Sorella Asiago Vecchio (Mature Asiago) has an unmistakable flavor with a distinctive, slightly sharp taste. It is straw colored and has a dense, grainy consistency. This cheese—which is rich in protein—is made from partially skimmed milk originating from the uncontaminated Asiago plateau pastures and is matured for one year minimum.

Sorella Asiago Vecchio is an excellent table cheese but it is also ideal for grating or shredding over a nice dish of pasta or salad.
| | | | | | | | | | |
| --- | --- | --- | --- | --- | --- | --- | --- | --- | --- |
| ITEM NUMBER | ITEM DESCRIPTION | PACK/SIZE | NET WEIGHT | GROSS WEIGHT | CASE DIMENSIONS (LxWxH) | CASE CUBE | PALLET BLOCK | PALLET TIER | PALLET TOTAL |
| 10095 | Asiago Vecchio Whole Wheel 12 Month | 1/18 LB | 18 LB | 19 LB | 14.20x15x50 | 0.62 | 6 | 8 | 36 |
| 20090 | Pre-Cut Asiago | 1/5 LB | 5 LB | 5 LB | 8.5x7x5.75 | 0.20 | 20 | 6 | 120 |
Oven-Roasted Sorella Asiago Vecchio Cheesy Potato Wedges
Ingredients:
6 large egg whites
1 1/2 teaspoons salt
3 pounds potatoes
2 1/4 cups finely grated Sorella Asiago Vecchio cheese
freshly ground pepper (to taste)
Preparation:
Wash the potatoes and cut them in half lengthwise, then cut each half into 2 or 3 long wedges or spears. Peeling the potatoes is optional. Place the potato wedges in a bowl of cold water with at least 6 ice cubes and let the potatoes soak for 30 minutes. Drain, and pat the potatoes dry with paper towels.
Position a rack in the middle of the oven and preheat to 425°F. Line a baking sheet with parchment paper and set aside.
Place the egg whites and salt in a medium-size bowl and whisk to combine. Add the potato wedges and toss to coat all surfaces.
Spread the grated cheese on a large plate. One by one, dip the potatoes into the cheese, coating the all the surfaces. Arrange the potatoes on the prepared pan, making sure none of the wedges touch.
Bake until the potatoes are golden brown and fork-tender, 20 to 30 minutes. To serve, sprinkle with freshly ground pepper to taste.
Makes 6 servings.
Sorella Asiago Pressato Sun-Dried Tomato Pasta
Ingredients:
2 cups heavy cream
1 cube chicken bouillon
1 tablespoon Sorella Asiago Pressato Cheese
1 tablespoon cornstarch, mixed with equal parts water
1 cup chopped sun-dried tomatoes
1 (16 ounce) package bow tie pasta
3/4 cup bacon
1/4 cup butter
1 cup diced red onion
2 cloves garlic, chopped
1 cup chopped green onion
1 pound grilled skinless, boneless chicken breast, diced
1 cup heavy cream
2 tablespoons chopped fresh parsley
Preparation:
In a large saucepan over medium heat, cook 2 cups cream until just bubbling. Stir in bouillon and Asiago cheese. Stir with a whisk until dissolved. Add cornstarch mixture, and simmer until sauce is thickened, stirring constantly. Mix in the sun-dried tomatoes. Set aside, or cover and refrigerate for later use.
Bring a large pot of lightly salted water to a boil. Add pasta and cook for 8 to 10 minutes or until al dente; drain. Place bacon in a large, deep skillet. Cook over medium high heat until evenly brown. Drain, crumble and set aside.
Melt butter in a large saucepan over medium heat. Saute red onion until soft and translucent. Stir in garlic and cooked bacon, and cook for 2 minutes. Stir in green onions, chicken and 1 cup cream. Cook, stirring, until cream is heated through. Add Asiago cream sauce, and heat through. Toss with cooked pasta until evenly coated, and sprinkle with chopped parsley.
Makes 8 servings.
Sorella Asiago Pressato Chicken Quiche
Ingredients:
1 pie crust (refrigerated)
2 tablespoons olive oil
1/2 teaspoon garlic (minced)
1 onion (chopped)
1/2 cup bacon (cooked about 4 slices)
1 cup chicken (pre cooked chopped)
8 ounces spinach (frozen, chopped thawed squeezed to drain)
1 cup light sour cream
1/4 teaspoon salt
1/4 teaspoon garlic powder
1/8 teaspoon pepper
2 cups cheddar cheese (shredded)
1 1/2 cups Sorella Asiago Pressato cheese (shredded)
3 eggs
1/2 cup heavy whipping cream
Preparation:
Preheat oven to 375°F Unroll pie crust and press firmly against bottom and side of 9-inch regular or 9 1/2-inch deep glass pie plate; flute edge as desired. Prick bottom of crust several times with fork. Bake 10 minutes; cool.
Meanwhile, in 10-inch skillet, heat oil over medium heat. Add garlic and onion; cook 2 to 3 minutes, stirring occasionally, until onion is tender. Reduce heat. Stir in bacon, chicken and spinach; toss to combine.
Remove from heat; transfer mixture to large bowl. Stir sour cream, salt, garlic powder and pepper into spinach mixture until well blended. Stir in cheeses.
In small bowl, beat eggs and whipping cream with fork or wire whisk until well blended. Gently fold into spinach mixture until well blended. Pour filling into pie crust.
Bake 15 minutes. Cover crust edge with strips of foil. Bake 20 to 25 minutes longer or until center is set and edge of crust is golden brown. Let stand 15 minutes before serving.
Makes 8 servings.