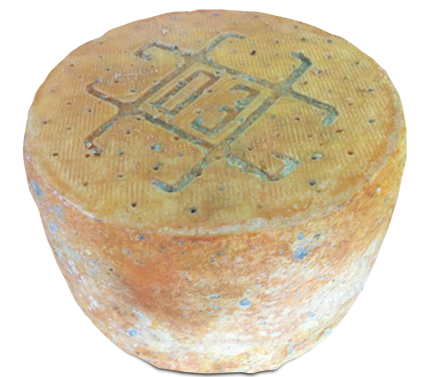 Creamy Dolce Gorgonzola
Areas of Production
Northern Italy: The Lombardy and Piedmont regions; and the provinces of Milan, Pavia, Novara, and Bergamo.
History
This cheese takes its name from the town of Gorgonzola near Milan, where it was first crafted towards the end of the 10th century. Since the beginning of the 20th century, Gorgonzola has become one of the most exported Italian cheeses.


Gorgonzola is available in two different types: Gorgonzola Dolce (Creamy Gorgonzola) and Gorgonzola Piccante (Mountain Gorgonzola).
Sorella Creamy Gorgonzola is a creamy and buttery blue cheese, matured for 50 days and originates in the province of Bergamo. The greenish-blue penicillin mold imparts a sharp, spicy flavor and provides an excellent contrast to the rich, velvety cheese.

Sorella Creamy Gorgonzola is ideally eaten with fruits such as apricots, pears, apples, or nuts and cashews. It is also excellent melted into a risotto, pasta, or on top of mashed potatoes.
| | | | | | | | | | |
| --- | --- | --- | --- | --- | --- | --- | --- | --- | --- |
| ITEM NUMBER | ITEM DESCRIPTION | PACK/SIZE | NET WEIGHT | GROSS WEIGHT | CASE DIMENSIONS (LxWxH) | CASE CUBE | PALLET BLOCK | PALLET TIER | PALLET TOTAL |
| 10021 | Gorgonzola Creamy Dolce 1/8 of Wheel | 4/3.5 LB | 14 LB | 15 LB | 13x13x3.25 | 0.32 | 6 | 10 | 60 |
Veal Gorgonzola
Ingredients:
3 or 4 veal scaloppini
rice flour for dredging
salt and pepper
2 tablespoons of olive oil
3/4 cup of white wine
1/2 cup heavy cream
1/2 cup of Sorella Creamy Gorgonzola
Preparation:
Give each veal cutlet a pinch of salt and a sprinkling of freshly cracked black pepper.
Splash out some rice flour on your plate and then dredge each piece of meat in the flour, shaking off the excess.
Heat a heavy skillet over medium high and when hot, add in your olive oil and a moment later, your veal cutlets – frying for 2 minutes on each .
When the meat has cooked through, take it out of the pan and reserve. Drain off any oil that remains in the pan and then return the pan to heat. Immediately add in the white wine to deglaze the pan, scraping up the bottom to release any and all tasty browned bits! Let the wine come to a simmer and simmer until it is reduced by about half.
Add in the cream and the cheese and then cook until the cheese has melted into the sauce.
Turn the heat down to very low, add the meat back to the pan and let it sit very gently in the sauce for 3-5 minutes.
Makes 3-4 servings.
Sorella Asiago Pressato Sun-Dried Tomato Pasta
Ingredients:
2 cups heavy cream
1 cube chicken bouillon
1 tablespoon Sorella Asiago Pressato Cheese
1 tablespoon cornstarch, mixed with equal parts water
1 cup chopped sun-dried tomatoes
1 (16 ounce) package bow tie pasta
3/4 cup bacon
1/4 cup butter
1 cup diced red onion
2 cloves garlic, chopped
1 cup chopped green onion
1 pound grilled skinless, boneless chicken breast, diced
1 cup heavy cream
2 tablespoons chopped fresh parsley
Preparation:
In a large saucepan over medium heat, cook 2 cups cream until just bubbling. Stir in bouillon and Asiago cheese. Stir with a whisk until dissolved. Add cornstarch mixture, and simmer until sauce is thickened, stirring constantly. Mix in the sun-dried tomatoes. Set aside, or cover and refrigerate for later use.
Bring a large pot of lightly salted water to a boil. Add pasta and cook for 8 to 10 minutes or until al dente; drain. Place bacon in a large, deep skillet. Cook over medium high heat until evenly brown. Drain, crumble and set aside.
Melt butter in a large saucepan over medium heat. Saute red onion until soft and translucent. Stir in garlic and cooked bacon, and cook for 2 minutes. Stir in green onions, chicken and 1 cup cream. Cook, stirring, until cream is heated through. Add Asiago cream sauce, and heat through. Toss with cooked pasta until evenly coated, and sprinkle with chopped parsley.
Makes 8 servings.
Sorella Asiago Pressato Chicken Quiche
Ingredients:
1 pie crust (refrigerated)
2 tablespoons olive oil
1/2 teaspoon garlic (minced)
1 onion (chopped)
1/2 cup bacon (cooked about 4 slices)
1 cup chicken (pre cooked chopped)
8 ounces spinach (frozen, chopped thawed squeezed to drain)
1 cup light sour cream
1/4 teaspoon salt
1/4 teaspoon garlic powder
1/8 teaspoon pepper
2 cups cheddar cheese (shredded)
1 1/2 cups Sorella Asiago Pressato cheese (shredded)
3 eggs
1/2 cup heavy whipping cream
Preparation:
Preheat oven to 375°F Unroll pie crust and press firmly against bottom and side of 9-inch regular or 9 1/2-inch deep glass pie plate; flute edge as desired. Prick bottom of crust several times with fork. Bake 10 minutes; cool.
Meanwhile, in 10-inch skillet, heat oil over medium heat. Add garlic and onion; cook 2 to 3 minutes, stirring occasionally, until onion is tender. Reduce heat. Stir in bacon, chicken and spinach; toss to combine.
Remove from heat; transfer mixture to large bowl. Stir sour cream, salt, garlic powder and pepper into spinach mixture until well blended. Stir in cheeses.
In small bowl, beat eggs and whipping cream with fork or wire whisk until well blended. Gently fold into spinach mixture until well blended. Pour filling into pie crust.
Bake 15 minutes. Cover crust edge with strips of foil. Bake 20 to 25 minutes longer or until center is set and edge of crust is golden brown. Let stand 15 minutes before serving.
Makes 8 servings.