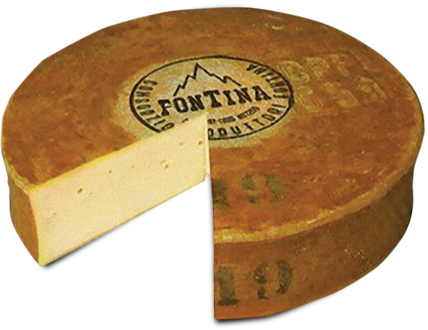 Fontina Val D'aosta
Areas of Production
Fontina Val d'Aosta is produced in the mountainous region of Valle D'Aosta in North West Italy.
History
The origin of this cheese dates back to the mid 1200s. Fontina was the name of various noble families living in area, but it was also used for meadows, lands, and villages. The word Fontina was also used to identify the cheese produced in that area.

Sorella Fontina Val d'Aosta is made with the milk of cows pasturing in the uncontaminated mountains of Val d'Aosta. The cheese is matured for a period of 3 months in caves dug out of the rock, and it is then selected for the consumers to offer an unique taste.
With its pale cream in color and its typical so-called "eyes" (holes), Sorella Fontina is rich and creamy and becomes nuttier with age.

Sorella Fontina is excellent for melting on gnocchi or for making a tasty fondue.
| | | | | | | | | | |
| --- | --- | --- | --- | --- | --- | --- | --- | --- | --- |
| ITEM NUMBER | ITEM DESCRIPTION | PACK/SIZE | NET WEIGHT | GROSS WEIGHT | CASE DIMENSIONS (LxWxH) | CASE CUBE | PALLET BLOCK | PALLET TIER | PALLET TOTAL |
| 10180 | Fontina Val D'Aosta | 1/20 LB | 20 LB | 21 LB | 15.5x15.5x3.25 | 0.45 | 6 | 10 | 60 |
| 10197 | Fontina Quarters | 2/6.5 LB | 13 LB | 14 LB | 15.75x8.5x3.75 | 0.29 | 12 | 9 | 108 |
Italian Onion Soup with Sorella Fontina Val D'aosta and Thyme
Ingredients:
1 tablespoon butter
6 or 7 large red or Spanish onions, sliced thin
1/3 cup high quality white vermouth
Italian red wine (optional)
salt and freshly ground black pepper
10 slices of Tuscan-style country bread (slice to cover the width of your serving bowls)
1 tablespoon of fresh or dried Thyme (use less if using dried)
3/4 pounds of grated Sorella Fontina Val D'aosta cheese
Preparation:
Using a large Dutch oven or pot begin to cook down the onions with the butter and salt. Add a lid to the pot after the oven has started to cook and let cook/steam for about 10-15 minutes. Remove the lid and set the flame to low and let cook for 60 minutes. Add black pepper stir and cook for another 2 hours on low heat. You're looking for all of the liquid to cook out of the onions, essentially leaving you with the essence of onion (you'll be amazed at how little onions you have left but how intense the flavor is). Next, add about 6 cups of fresh, filtered, water to the pot and bring to a boil. Once the liquid boils set the flame to simmer, add the vermouth, wine, and thyme. Simmer for another 15 minutes.
For the melted cheese part, cut a baguette into 1/2 inch slices and toast the bread in your broiler or toaster oven. Next, portion the soup into bowls, place (or float) the bread on top, cover with shredded Fontina, and broil until the cheese is melted.
Makes 6 servings.
Sorella Asiago Pressato Sun-Dried Tomato Pasta
Ingredients:
2 cups heavy cream
1 cube chicken bouillon
1 tablespoon Sorella Asiago Pressato Cheese
1 tablespoon cornstarch, mixed with equal parts water
1 cup chopped sun-dried tomatoes
1 (16 ounce) package bow tie pasta
3/4 cup bacon
1/4 cup butter
1 cup diced red onion
2 cloves garlic, chopped
1 cup chopped green onion
1 pound grilled skinless, boneless chicken breast, diced
1 cup heavy cream
2 tablespoons chopped fresh parsley
Preparation:
In a large saucepan over medium heat, cook 2 cups cream until just bubbling. Stir in bouillon and Asiago cheese. Stir with a whisk until dissolved. Add cornstarch mixture, and simmer until sauce is thickened, stirring constantly. Mix in the sun-dried tomatoes. Set aside, or cover and refrigerate for later use.
Bring a large pot of lightly salted water to a boil. Add pasta and cook for 8 to 10 minutes or until al dente; drain. Place bacon in a large, deep skillet. Cook over medium high heat until evenly brown. Drain, crumble and set aside.
Melt butter in a large saucepan over medium heat. Saute red onion until soft and translucent. Stir in garlic and cooked bacon, and cook for 2 minutes. Stir in green onions, chicken and 1 cup cream. Cook, stirring, until cream is heated through. Add Asiago cream sauce, and heat through. Toss with cooked pasta until evenly coated, and sprinkle with chopped parsley.
Makes 8 servings.
Sorella Asiago Pressato Chicken Quiche
Ingredients:
1 pie crust (refrigerated)
2 tablespoons olive oil
1/2 teaspoon garlic (minced)
1 onion (chopped)
1/2 cup bacon (cooked about 4 slices)
1 cup chicken (pre cooked chopped)
8 ounces spinach (frozen, chopped thawed squeezed to drain)
1 cup light sour cream
1/4 teaspoon salt
1/4 teaspoon garlic powder
1/8 teaspoon pepper
2 cups cheddar cheese (shredded)
1 1/2 cups Sorella Asiago Pressato cheese (shredded)
3 eggs
1/2 cup heavy whipping cream
Preparation:
Preheat oven to 375°F Unroll pie crust and press firmly against bottom and side of 9-inch regular or 9 1/2-inch deep glass pie plate; flute edge as desired. Prick bottom of crust several times with fork. Bake 10 minutes; cool.
Meanwhile, in 10-inch skillet, heat oil over medium heat. Add garlic and onion; cook 2 to 3 minutes, stirring occasionally, until onion is tender. Reduce heat. Stir in bacon, chicken and spinach; toss to combine.
Remove from heat; transfer mixture to large bowl. Stir sour cream, salt, garlic powder and pepper into spinach mixture until well blended. Stir in cheeses.
In small bowl, beat eggs and whipping cream with fork or wire whisk until well blended. Gently fold into spinach mixture until well blended. Pour filling into pie crust.
Bake 15 minutes. Cover crust edge with strips of foil. Bake 20 to 25 minutes longer or until center is set and edge of crust is golden brown. Let stand 15 minutes before serving.
Makes 8 servings.