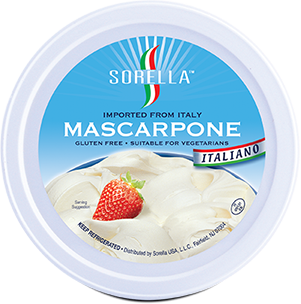 Mascarpone
Areas of Production
Mascarpone is a typical Italian dairy product of the northern regions but particularly Lombardy.
History
The origin of mascarpone dates back to 17th century, and its name comes from the word "mascarpa," which signified a dairy product containing cream. Mascarpone is made with fresh milk cream and citric acid, but does not contain rennet. For this reason, it is considered a dairy product but not a cheese.


Sorella Mascarpone comes from the Lombardy Po Valley region. It is made with fresh milk, cream of the highest quality coming from dairies producing Grana Padano and Parmigiano Reggiano. It has a soft, creamy color and as rennet is not used, Sorella Mascarpone is suitable for vegetarians and does not contain preservatives.

Sorella Mascarpone is ideal for making the famous Tiramisù but also for cheese cakes. It can also be used for pasta sauces alone or melted mixed with other Italian cheeses such as Gorgonzola.
| | | | | | | | | | |
| --- | --- | --- | --- | --- | --- | --- | --- | --- | --- |
| ITEM NUMBER | ITEM DESCRIPTION | PACK/SIZE | NET WEIGHT | GROSS WEIGHT | CASE DIMENSIONS (LxWxH) | CASE CUBE | PALLET BLOCK | PALLET TIER | PALLET TOTAL |
| 10050 | Mascarpone 250G | 8/8.8 OZ | 4.40 LB | 4.75 LB | 9.5x9.5x4.5 | 0.24 | 20 | 14 | 280 |
| 10052 | Mascarpone 500G | 8/17.5 OZ | 8.75 LB | 9.5 LB | 9.5x9.5x7.25 | 0.38 | 20 | 8 | 160 |
Warm Spinach Sorella Mascarpone Dip
Ingredients:
16 ounces frozen chopped spinach, defrosted
1 small onion, minced
2 tablespoons olive oil
1/4 teaspoon salt
1/4 teaspoon freshly ground black pepper
1/4 teaspoon ground nutmeg
1/4 teaspoon cayenne pepper powder
8 ounces Sorella Mascarpone cheese, softened at room temperature
1/2 cup Sorella Shaved Parmesan cheese
Preparation:
Preheat the oven to 350F. Take a handful of the defrosted spinach and squeeze and discard the water from the spinach. Squeeze as much of the water out as you can, you should get about a little less than a cup of spinach water.
Heat a sauté pan over medium heat. When hot, add the olive oil and swirl to coat. Add the onions and sauté until soft and translucent, about 4-5 minutes (take your time, if you do this over high heat, the onions will burn and become bitter). Add the spinach and sauté until the spinach is warm, but still bright green about 30 seconds.
Season and toss with salt, pepper, nutmeg and cayenne. Turn off the heat and stir in the mascarpone cheese and the grated parmesan.
Pour into 2 small ramekins (or other oven-safe dish) and bake for 30 minutes until the cheese is bubbling around the edges. Serve warm with pita chips, bread or celery sticks.
Yields 2 cups.
Sorella Asiago Pressato Sun-Dried Tomato Pasta
Ingredients:
2 cups heavy cream
1 cube chicken bouillon
1 tablespoon Sorella Asiago Pressato Cheese
1 tablespoon cornstarch, mixed with equal parts water
1 cup chopped sun-dried tomatoes
1 (16 ounce) package bow tie pasta
3/4 cup bacon
1/4 cup butter
1 cup diced red onion
2 cloves garlic, chopped
1 cup chopped green onion
1 pound grilled skinless, boneless chicken breast, diced
1 cup heavy cream
2 tablespoons chopped fresh parsley
Preparation:
In a large saucepan over medium heat, cook 2 cups cream until just bubbling. Stir in bouillon and Asiago cheese. Stir with a whisk until dissolved. Add cornstarch mixture, and simmer until sauce is thickened, stirring constantly. Mix in the sun-dried tomatoes. Set aside, or cover and refrigerate for later use.
Bring a large pot of lightly salted water to a boil. Add pasta and cook for 8 to 10 minutes or until al dente; drain. Place bacon in a large, deep skillet. Cook over medium high heat until evenly brown. Drain, crumble and set aside.
Melt butter in a large saucepan over medium heat. Saute red onion until soft and translucent. Stir in garlic and cooked bacon, and cook for 2 minutes. Stir in green onions, chicken and 1 cup cream. Cook, stirring, until cream is heated through. Add Asiago cream sauce, and heat through. Toss with cooked pasta until evenly coated, and sprinkle with chopped parsley.
Makes 8 servings.
Sorella Asiago Pressato Chicken Quiche
Ingredients:
1 pie crust (refrigerated)
2 tablespoons olive oil
1/2 teaspoon garlic (minced)
1 onion (chopped)
1/2 cup bacon (cooked about 4 slices)
1 cup chicken (pre cooked chopped)
8 ounces spinach (frozen, chopped thawed squeezed to drain)
1 cup light sour cream
1/4 teaspoon salt
1/4 teaspoon garlic powder
1/8 teaspoon pepper
2 cups cheddar cheese (shredded)
1 1/2 cups Sorella Asiago Pressato cheese (shredded)
3 eggs
1/2 cup heavy whipping cream
Preparation:
Preheat oven to 375°F Unroll pie crust and press firmly against bottom and side of 9-inch regular or 9 1/2-inch deep glass pie plate; flute edge as desired. Prick bottom of crust several times with fork. Bake 10 minutes; cool.
Meanwhile, in 10-inch skillet, heat oil over medium heat. Add garlic and onion; cook 2 to 3 minutes, stirring occasionally, until onion is tender. Reduce heat. Stir in bacon, chicken and spinach; toss to combine.
Remove from heat; transfer mixture to large bowl. Stir sour cream, salt, garlic powder and pepper into spinach mixture until well blended. Stir in cheeses.
In small bowl, beat eggs and whipping cream with fork or wire whisk until well blended. Gently fold into spinach mixture until well blended. Pour filling into pie crust.
Bake 15 minutes. Cover crust edge with strips of foil. Bake 20 to 25 minutes longer or until center is set and edge of crust is golden brown. Let stand 15 minutes before serving.
Makes 8 servings.