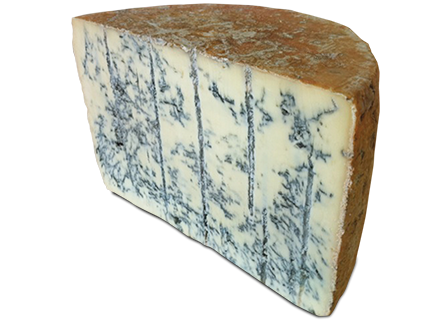 Mountain Gorgonzola
Areas of Production
Northern Italy: The Lombardy and Piedmont regions; and the provinces of Milan, Pavia, Novara, and Bergamo.
History
This cheese takes its name from the town of Gorgonzola near Milan, where it was first crafted towards the end of the 10th century. Since the beginning of the 20th century, Gorgonzola has become one of the most exported Italian cheeses.

Gorgonzola is available in two different types: Gorgonzola Dolce (Creamy Gorgonzola) and Gorgonzola Piccante (Mountain Gorgonzola).
Sorella Mountain Gorgonzola is matured for 80 days using the finest techniques. Specially selected enzymes give a special personality to the product. The firmer, straw color paste envelopes the exterior with its earthy, piquant flavor and strong aroma.

Sorella Mountain Gorgonzola will add a unique flavor to your pizzas but it is best enjoyed with an orange marmalade or with a honey spread on bread.
| | | | | | | | | | |
| --- | --- | --- | --- | --- | --- | --- | --- | --- | --- |
| ITEM NUMBER | ITEM DESCRIPTION | PACK/SIZE | NET WEIGHT | GROSS WEIGHT | CASE DIMENSIONS (LxWxH) | CASE CUBE | PALLET BLOCK | PALLET TIER | PALLET TOTAL |
| 10150 | Gorgonzola Naturale Mountain 1/8 of Wheel | 4/3.5 LB | 14 LB | 15 LB | 13x13x3.25 | 0.32 | 6 | 10 | 60 |
Sage, Sorella Mountain Gorgonzola and Fig Pizza
Ingredients:
Pizza Dough:
1/2 cup warm water plus 1/2 cup lukewarm water
2 teaspoons dried yeast
1/4 cup rye flower
1 tablespoon milk
2 tablespoons olive oil plus extra virgin olive oil for drizzling
1/2 teaspoon salt
1 3/4 cups unbleached all-purpose flour
Pizza Topping:
1 teaspoon extra virgin olive oil
1 pound Sorella Mountain Gorgonzola cheese
10 ripe fresh figs, or 10 black dried figs, rehydrated, torn into pieces
1 cup fig preserves (optional)
2 sprigs fresh sage, julienned
salt and freshly ground black pepper to taste
1oz. small, fresh arugula leaves tossed with 2 tablespoons lemon juice
2 tablespoons extra virgin olive oil
Preparation:
Combine warm water, yeast and rye flour to make sponge. Set aside in very warm place for 20 minutes.
Stir in milk, olive oil, salt, flour and lukewarm water. Place dough on lightly floured work surface, and knead by hand for 10 to 15 minutes.
Place dough in large mixing bowl, and set aside to double in very warm place. Punch down, and allow to rise for 40 minutes more. Place dough on lightly floured work surface, and divide into 2 balls. Place in mixing bowl, cover with oiled plastic wrap and refrigerate until ready to use.
When ready to make pizzas, preheat oven to 500F.
Remove one dough ball from refrigerator, and flatten on lightly floured work surface or cookie sheet. Using floured hands, work dough out by pulling in circle. Using knuckles, slowly stretch dough into large disc 12 inches round. Repeat with second ball of dough.
Place discs on preheated pizza stone or pizza pan. Drizzle each with extra virgin olive oil.
Place small pieces of Gorgonzola on each dough circle. Add fresh figs and fig preserves, if using. Sprinkle with sage, and season with salt and pepper to taste. Bake in oven for 8 to 10 minutes, or until crust is browned. Top with greens, and serve.
Makes 4-6 servings.
Sorella Asiago Pressato Sun-Dried Tomato Pasta
Ingredients:
2 cups heavy cream
1 cube chicken bouillon
1 tablespoon Sorella Asiago Pressato Cheese
1 tablespoon cornstarch, mixed with equal parts water
1 cup chopped sun-dried tomatoes
1 (16 ounce) package bow tie pasta
3/4 cup bacon
1/4 cup butter
1 cup diced red onion
2 cloves garlic, chopped
1 cup chopped green onion
1 pound grilled skinless, boneless chicken breast, diced
1 cup heavy cream
2 tablespoons chopped fresh parsley
Preparation:
In a large saucepan over medium heat, cook 2 cups cream until just bubbling. Stir in bouillon and Asiago cheese. Stir with a whisk until dissolved. Add cornstarch mixture, and simmer until sauce is thickened, stirring constantly. Mix in the sun-dried tomatoes. Set aside, or cover and refrigerate for later use.
Bring a large pot of lightly salted water to a boil. Add pasta and cook for 8 to 10 minutes or until al dente; drain. Place bacon in a large, deep skillet. Cook over medium high heat until evenly brown. Drain, crumble and set aside.
Melt butter in a large saucepan over medium heat. Saute red onion until soft and translucent. Stir in garlic and cooked bacon, and cook for 2 minutes. Stir in green onions, chicken and 1 cup cream. Cook, stirring, until cream is heated through. Add Asiago cream sauce, and heat through. Toss with cooked pasta until evenly coated, and sprinkle with chopped parsley.
Makes 8 servings.
Sorella Asiago Pressato Chicken Quiche
Ingredients:
1 pie crust (refrigerated)
2 tablespoons olive oil
1/2 teaspoon garlic (minced)
1 onion (chopped)
1/2 cup bacon (cooked about 4 slices)
1 cup chicken (pre cooked chopped)
8 ounces spinach (frozen, chopped thawed squeezed to drain)
1 cup light sour cream
1/4 teaspoon salt
1/4 teaspoon garlic powder
1/8 teaspoon pepper
2 cups cheddar cheese (shredded)
1 1/2 cups Sorella Asiago Pressato cheese (shredded)
3 eggs
1/2 cup heavy whipping cream
Preparation:
Preheat oven to 375°F Unroll pie crust and press firmly against bottom and side of 9-inch regular or 9 1/2-inch deep glass pie plate; flute edge as desired. Prick bottom of crust several times with fork. Bake 10 minutes; cool.
Meanwhile, in 10-inch skillet, heat oil over medium heat. Add garlic and onion; cook 2 to 3 minutes, stirring occasionally, until onion is tender. Reduce heat. Stir in bacon, chicken and spinach; toss to combine.
Remove from heat; transfer mixture to large bowl. Stir sour cream, salt, garlic powder and pepper into spinach mixture until well blended. Stir in cheeses.
In small bowl, beat eggs and whipping cream with fork or wire whisk until well blended. Gently fold into spinach mixture until well blended. Pour filling into pie crust.
Bake 15 minutes. Cover crust edge with strips of foil. Bake 20 to 25 minutes longer or until center is set and edge of crust is golden brown. Let stand 15 minutes before serving.
Makes 8 servings.