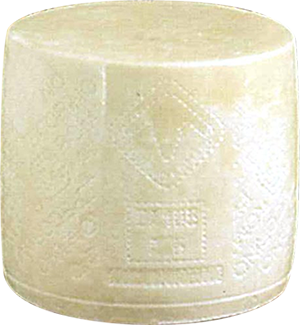 Pecorino Romano
Areas of Production
Despite its name, 90% of Pecorino Romano is produced in Sardinia. The other 10% is produced in the region of Lazio and in southern Tuscany.
History
Pecorino Romano is a PDO cheese, produced with sheep's milk. The cheese was first produced in ancient Rome and was given to Legionaries as an important part of their diet. In 1884, the production moved to Sardinia after local council banned the salting of cheese in Rome's shops.
Sorella Pecorino Romano has very strong and salty flavor.

Sorella Pecorino Romano is perfect grated on macaroni pasta, with some black pepper or added on carbonara sauce. It is also great with fava beans and green peas.
| | | | | | | | | | |
| --- | --- | --- | --- | --- | --- | --- | --- | --- | --- |
| ITEM NUMBER | ITEM DESCRIPTION | PACK/SIZE | NET WEIGHT | GROSS WEIGHT | CASE DIMENSIONS (LxWxH) | CASE CUBE | PALLET BLOCK | PALLET TIER | PALLET TOTAL |
| 10192 | Pecorino Romano Whole Wheel | 1/55 LB | 55 LB | 56 LB | 12x12x11.5 | 0.96 | 9 | 5 | 45 |
| 10194 | Pecorino Romano Quarters | 4/13.5 LB | 54 LB | 55 LB | 11x11x7 | 0.49 | 16 | 10 | 160 |
| 10195 | Pecorino Romano Quarter | 1/13.5 LB | 13.5 LB | 14.5 LB | 11.25x7.75x7.75 | 0.45 | 8 | 15 | 120 |
| 20194 | Pre-Cut Pecorino Romano 300G RW | 1/8 LB | 8 LB | 9 LB | 15x9x7.25 | 0.57 | 16 | 10 | 160 |