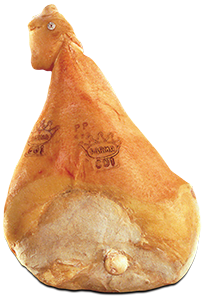 Prosciutto di Parma
Areas of Production
Prosciutto di Parma is produced exclusively in a precise area near Parma called Terre Matildiche delimited by natural borders.
History
Prosciutto di Parma was first produced in the ancient Rome period. The term Prosciutto comes from the Parmesan dialect "pàr-sùt" which means "seems dry".

Prosciutto di Parma is a PDO product and is made under strict rules. It contains no chemical preservatives and only salt is used to protect the product.
Sorella Prosciutto di Parma is made by rubbing and massaging the hind legs of pork with an amount of salt proportionate to the weight of the meat and has a sweet, smooth and sophisticated flavor. After the ham has been salted, it is washed, dried and left to age for minimum 10 months.

Sorella Prosciutto di Parma is great as appetizer combined with a glass of red wine or with fresh melon.
| | | | | | | | | | |
| --- | --- | --- | --- | --- | --- | --- | --- | --- | --- |
| ITEM NUMBER | ITEM DESCRIPTION | PACK/SIZE | NET WEIGHT | GROSS WEIGHT | CASE DIMENSIONS (LxWxH) | CASE CUBE | PALLET BLOCK | PALLET TIER | PALLET TOTAL |
| 40010 | Prosciutto Di Parma Dop Deboned Pressed | 1/17.7 LB | 17.7 LB | 18.5 LB | 15.25x11.5x6.25 | 0.63 | 6 | 7 | 54 |
Grilled Figs With Prosciutto
Ingredients:
fine sea salt
12 ripe fresh figs (cut in half)
1/2 pound thinly sliced Prosciutto di Parma
2 handfuls of mixed baby greens
extra virgin olive oil
balsamic vinegar
salt and pepper to taste
1/4 cup olive oil
Preparation:
Trim the stems of the figs.
Wash and dry well and cut them in half from tip to bottom.
Brush the cut end with a little olive oil and place them face down on a hot grill.
Don't cook them too long because you just want to score them a little. When done set aside.
Arrange the baby greens on individual plates.
Salt and pepper the figs to taste.
Wrap each fig in half a slice of Sorela Prosciutto di Parma and place on the greens.
In a small saucepan, heat some balsamic vinegar and cook until it is reduced by half. Wisk in some olive oil and salt and pepper on them to taste.
Remove them from the heat to cool to room temperature. When ready to serve, drizzle this mixture over the figs and greens and serve.
Makes 24.
Italian Wedding Soup
Ingredients:
1 head green cabbage, coarsely shredded
2 1/4 pounds torzelle, blanche and squeeze out the bitter juices
2 1/4 pounds escarole, coarsely shredded
a bunch of basil
1/2 a chicken
2 1/4 pounds soup beef
1/4 pound Prosciutto di Parma rind
1/4 pound Prosciutto di Parma
1/4 pound pancetta
1/4 pound seasoned lard
a small yellow onion
1 large celery rib
1 medium carrot, peeled
2 bay leaves
flat leaf parsley, to taste
Preparation:
Wash the soup beef, prosciutto rind, prosciutto, pancetta and herbs and put them in a stock pot with sufficient water to make soup.
Bring the mixture to a boil then reduce heat and simmer until the meat is cooked through.
Remove the meat with a slotted spoon and reserve the broth.
Cook the greens in the broth.
Add the meat to the soup and heat until hot.
Makes 6 servings.
Sorella Asiago Pressato Chicken Quiche
Ingredients:
1 pie crust (refrigerated)
2 tablespoons olive oil
1/2 teaspoon garlic (minced)
1 onion (chopped)
1/2 cup bacon (cooked about 4 slices)
1 cup chicken (pre cooked chopped)
8 ounces spinach (frozen, chopped thawed squeezed to drain)
1 cup light sour cream
1/4 teaspoon salt
1/4 teaspoon garlic powder
1/8 teaspoon pepper
2 cups cheddar cheese (shredded)
1 1/2 cups Sorella Asiago Pressato cheese (shredded)
3 eggs
1/2 cup heavy whipping cream
Preparation:
Preheat oven to 375°F Unroll pie crust and press firmly against bottom and side of 9-inch regular or 9 1/2-inch deep glass pie plate; flute edge as desired. Prick bottom of crust several times with fork. Bake 10 minutes; cool.
Meanwhile, in 10-inch skillet, heat oil over medium heat. Add garlic and onion; cook 2 to 3 minutes, stirring occasionally, until onion is tender. Reduce heat. Stir in bacon, chicken and spinach; toss to combine.
Remove from heat; transfer mixture to large bowl. Stir sour cream, salt, garlic powder and pepper into spinach mixture until well blended. Stir in cheeses.
In small bowl, beat eggs and whipping cream with fork or wire whisk until well blended. Gently fold into spinach mixture until well blended. Pour filling into pie crust.
Bake 15 minutes. Cover crust edge with strips of foil. Bake 20 to 25 minutes longer or until center is set and edge of crust is golden brown. Let stand 15 minutes before serving.
Makes 8 servings.