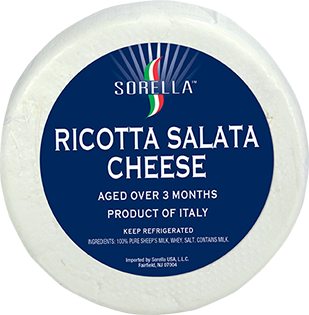 Ricotta Salata
Areas of Production
Ricotta Salata or Ricotta Secca (dry ricotta) is mainly produced in southern Italy and Sardinia.
Ricotta Salata it is made using sheep's whey, it is dried, allowing for the loss of losing 50% of its water. Sea salt is added and acts as a preservative. The cheese is matured up to 90 days.


Sorella Ricotta Salata comes from Sardinia and has a marked and strong flavor. Aged 90 days, this semi-firm cheese has a smooth, white appearance and a rather dry texture.

Sorella Ricotta Salata is perfect for shredding over pizza and pasta or crumbling onto salads or grilled vegetables.
| | | | | | | | | | |
| --- | --- | --- | --- | --- | --- | --- | --- | --- | --- |
| ITEM NUMBER | ITEM DESCRIPTION | PACK/SIZE | NET WEIGHT | GROSS WEIGHT | CASE DIMENSIONS (LxWxH) | CASE CUBE | PALLET BLOCK | PALLET TIER | PALLET TOTAL |
| 10070 | Ricotta Salata Dry | 2/6 LB | 12 LB | 13 LB | 15.75x7.75x4 | 0.28 | 12 | 8 | 96 |
| 20070 | Pre-Cut Ricotta Salata | 1/5 LB | 5 LB | 6 LB | 8.5x7x5.75 | 0.20 | 20 | 6 | 120 |
Sweet and Sour Eggplant with Ricotta Salata
Ingredients:
2 teaspoons olive oil
1 cup sliced shallots
3 cups (1-inch) pieces red bell pepper
3 tablespoons golden raisins
3/4 teaspoon sea salt
1/4 teaspoon crushed red pepper
2 garlic cloves, minced
1 (1-pound) eggplant, cut into 1 inch cubes
1 cup water
2 tablespoons honey
1/4 cup chopped fresh parsley
3 ounces Sorella Ricotta Salata, crumbled
Preparation:
Heat olive oil in a large nonstick skillet over medium-high heat. Add sliced shallots; sauté 2 minutes or until lightly browned. Add bell pepper pieces; sauté 2 minutes. Add raisins and next 4 ingredients (raisins through eggplant); sauté 6 minutes or until eggplant is tender.
Add water, vinegar, and honey to pan; bring to a boil. Reduce heat, and simmer 2 minutes. Remove from pan. Sprinkle with parsley and cheese.
Makes 4 servings.
Warm Grapes, Toasted Pita Bread and Ricotta Salata
Ingredients:
2 tablespoons extra virgin olive oil plus more for drizzling
pinch of chili flakes
1 think pita bread, cut into 1/2 inch squares
1 cup grapes, halved (and seeded if necessary)
squeeze of lemon juice
toasted fennel and cumin seed spice mixture
2 or 3 ounces Sorella Ricotta Salata cheese, thinly sliced or crumbled
handful of parsley leaves
Preparation:
Put the olive oil in a small skillet over medium-high heat. When it is hot, add the chili flakes and pita. Cook, tossing occasionally, until the pita is nicely browned and somewhat crispy. Transfer the pita to a bowl and put the pan back on the heat.
Without adding any more oil, saute the grapes for about 30 seconds, until warmed through but not falling apart. Add the grapes to the pita bread.
Add a generous squeeze of lemon juice and spice mixture and toss. Add the cheese and toss again, then taste and adjust seasoning. Divide on serving plates, or leave in the large bowl. Finish with a drizzle of excellent olive oil. Serve warm.
Makes 2 servings.
Spinach Gnocchi with Shaved Ricotta Salata and Brown Butter
Ingredients:
2 1/3 pound flat-leaf spinach
1 piece(s) large egg
1/2 cup all-purpose flour
1/2 cup plain dry breadcrumbs
1/2 cup grated Sorella Grana Padano cheese
1/4 teaspoon freshly grated nutmeg
1 pinch Kosher salt and freshly ground black pepper
1 cup all-purpose flour for dredging
6 tablespoons butter
1/4 cup grated Sorella Parmigiano Reggiano cheese
1/4 pound piece of Sorella Ricotta Salata cheese
Preparation:
De-stem the spinach and wash thoroughly in cold water. Bring a large pot of salted water to a boil and blanch the spinach for 3 to 4 minutes (in batches if necessary). The stems should be soft enough so they will puree smooth; otherwise, the gnocchi will taste stringy. Transfer the spinach to an ice-water bath. Remove the spinach from the ice water, squeeze to remove moisture, and place in a food processor. Puree until very smooth, about 5 solid minutes, adding up to 1/2 cup liquid if necessary to create a smooth mixture. The consistency of the spinach should be very mushy like wet batter. Put the pureed spinach in a medium mesh strainer set over a bowl.
Cover and drain in the refrigerator for 18 hours.
Place the drained spinach in a bowl and, using your hands, mix in the egg, flour, breadcrumbs, Grana Padano, and nutmeg. Season to taste with salt and pepper. The mixture should remain wet enough to be squeezed through a pastry bag with a wide tip.
Bring a large pot of fresh salted water to a boil. Fill a rimmed baking sheet or large roasting pan with flour to a depth of about 1/2 inch. Put the spinach mixture in a pastry bag or a zipper lock bag with a corner cut off. Squeeze out little spinach balls (about 3/4 inch) onto the flour filled tray. Gently roll the balls around in the flour until they are evenly dusted. Shake off the excess flour then drop the gnocchi into the boiling water. Remove the gnocchi from the water after about 45 seconds. Drain and place on a plate.
Meanwhile, in a sauté pan, brown the butter over medium heat to the color of hazelnut, about 8 minutes. Watch carefully so that the butter doesn't burn. Sprinkle the gnocchi with Parmesan cheese, shave ricotta salata on top, then pour on the brown butter. Serve immediately.
Makes 6 servings.