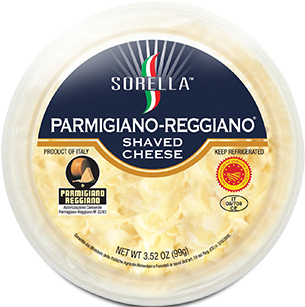 Parmigiano Reggiano Shavings
Areas of Production
Parmigiano-Reggiano is produced in the provinces of Parma, Reggio Emilia, Mantua, Bologna, and Modena.
History
Parmigiano-Reggiano owes his name to the original area of production. According to legend, this PDO cheese was first produced during the Middle Ages in the geographical area between the provinces of Parma and Reggio Emilia. The peculiarity of Parmigiano-Reggiano is that the milk is used straight from the cows—fresh, without additives or treatment of any kind.

Still today, a master from the Consorzio Parmigiano-Reggiano inspects every cheese every 12 months using only a hammer and his ear to see if there are any cracks in the cheese wheel. Cheeses that pass the test are heat branded with Parmigiano-Reggiano's logo.
We've taken the distinct flavor and unique characteristics of Parmigiano Reggiano and slivered it just right to make any meal an international delight! Packaged in a convenient deli cup, Sorella Shaved Parmesan offers a complex, mouth-tingling matrix of fragrant and savory flavors.
| | | | | | | | | | |
| --- | --- | --- | --- | --- | --- | --- | --- | --- | --- |
| ITEM NUMBER | ITEM DESCRIPTION | PACK/SIZE | NET WEIGHT | GROSS WEIGHT | CASE DIMENSIONS (LxWxH) | CASE CUBE | PALLET BLOCK | PALLET TIER | PALLET TOTAL |
| 10131 | Parmigiano Reggiano Shavings 100G Cup | 10/3.5 LB | 2.19 LB | 3 LB | 10.03x9.44x8.07 | 0.44 | 16 | 10 | 160 |
Spinach, Pear & Sorella Shaved Parmesan Salad
Ingredients:
8 cups fresh baby spinach
2 bosc pears, quartered lengthwise, cored, and thinly sliced
2 ounces Sorella Shaved Parmesan cheese
2 tablespoons balsamic vinegar
1 tablespoon whole-grain mustard
1/2 cup extra virgin olive oil
1 teaspoon sugar
1 teaspoon salt
fresh ground pepper
Preparation:
Combine spinach, pears, and cheese. For dressing whisk together vinegar, mustard, sugar and salt, and 1/4 teaspoon freshly ground black pepper. Whisk in oil. Drizzle on salad and pass remaining.
Makes 8 servings.
Sorella Asiago Pressato Sun-Dried Tomato Pasta
Ingredients:
2 cups heavy cream
1 cube chicken bouillon
1 tablespoon Sorella Asiago Pressato Cheese
1 tablespoon cornstarch, mixed with equal parts water
1 cup chopped sun-dried tomatoes
1 (16 ounce) package bow tie pasta
3/4 cup bacon
1/4 cup butter
1 cup diced red onion
2 cloves garlic, chopped
1 cup chopped green onion
1 pound grilled skinless, boneless chicken breast, diced
1 cup heavy cream
2 tablespoons chopped fresh parsley
Preparation:
In a large saucepan over medium heat, cook 2 cups cream until just bubbling. Stir in bouillon and Asiago cheese. Stir with a whisk until dissolved. Add cornstarch mixture, and simmer until sauce is thickened, stirring constantly. Mix in the sun-dried tomatoes. Set aside, or cover and refrigerate for later use.
Bring a large pot of lightly salted water to a boil. Add pasta and cook for 8 to 10 minutes or until al dente; drain. Place bacon in a large, deep skillet. Cook over medium high heat until evenly brown. Drain, crumble and set aside.
Melt butter in a large saucepan over medium heat. Saute red onion until soft and translucent. Stir in garlic and cooked bacon, and cook for 2 minutes. Stir in green onions, chicken and 1 cup cream. Cook, stirring, until cream is heated through. Add Asiago cream sauce, and heat through. Toss with cooked pasta until evenly coated, and sprinkle with chopped parsley.
Makes 8 servings.
Sorella Asiago Pressato Chicken Quiche
Ingredients:
1 pie crust (refrigerated)
2 tablespoons olive oil
1/2 teaspoon garlic (minced)
1 onion (chopped)
1/2 cup bacon (cooked about 4 slices)
1 cup chicken (pre cooked chopped)
8 ounces spinach (frozen, chopped thawed squeezed to drain)
1 cup light sour cream
1/4 teaspoon salt
1/4 teaspoon garlic powder
1/8 teaspoon pepper
2 cups cheddar cheese (shredded)
1 1/2 cups Sorella Asiago Pressato cheese (shredded)
3 eggs
1/2 cup heavy whipping cream
Preparation:
Preheat oven to 375°F Unroll pie crust and press firmly against bottom and side of 9-inch regular or 9 1/2-inch deep glass pie plate; flute edge as desired. Prick bottom of crust several times with fork. Bake 10 minutes; cool.
Meanwhile, in 10-inch skillet, heat oil over medium heat. Add garlic and onion; cook 2 to 3 minutes, stirring occasionally, until onion is tender. Reduce heat. Stir in bacon, chicken and spinach; toss to combine.
Remove from heat; transfer mixture to large bowl. Stir sour cream, salt, garlic powder and pepper into spinach mixture until well blended. Stir in cheeses.
In small bowl, beat eggs and whipping cream with fork or wire whisk until well blended. Gently fold into spinach mixture until well blended. Pour filling into pie crust.
Bake 15 minutes. Cover crust edge with strips of foil. Bake 20 to 25 minutes longer or until center is set and edge of crust is golden brown. Let stand 15 minutes before serving.
Makes 8 servings.